Hello folks! Long time no update 💥

The move has been mentally, physically, emotionally, and financially taxing so I've been hyper focused on finishing my shipment backlogs and pre-order item orders for the past couple of months. Unfortunately, I did get sick and we didn't have internet for a while thanks to our provider going under maintenance for an entire week last month 😩

I have some good news and some bad news.  So let's get the bad news out of the way first.




🔸 QUARANTINE AGAIN 🔸

A few days back, our government put us under quarantine again for August 😔

We're under General Community Quarantine (GCQ) from July 30 to August 5, and will be under Enhanced Community Quarantine from August 6 to 20. They also announced that PHLPost, our post office, will be closed this August. The date for reopening is indefinite as of writing. So all regular mail shipments on queue are on hold for now.

But if you're in a hurry, PostNord and DHL Express are still available options since private couriers will remain open during ECQ. If you'd like to upgrade your shipping to PostNord or DHL Express, just send the store an email or dm me on my socials so I can invoice you your new shipping fee.

Note: you can check shipping fee estimates by putting the same items you ordered in your cart and choosing PostNord or DHL Express without checking out.

Some items in production or in transit may take longer times to get to me because of reimplementing all previous restrictions. But I'll do my best to update as often as I can.

However! Here are some good updates for you especially if you're waiting for previous pre-orders ✨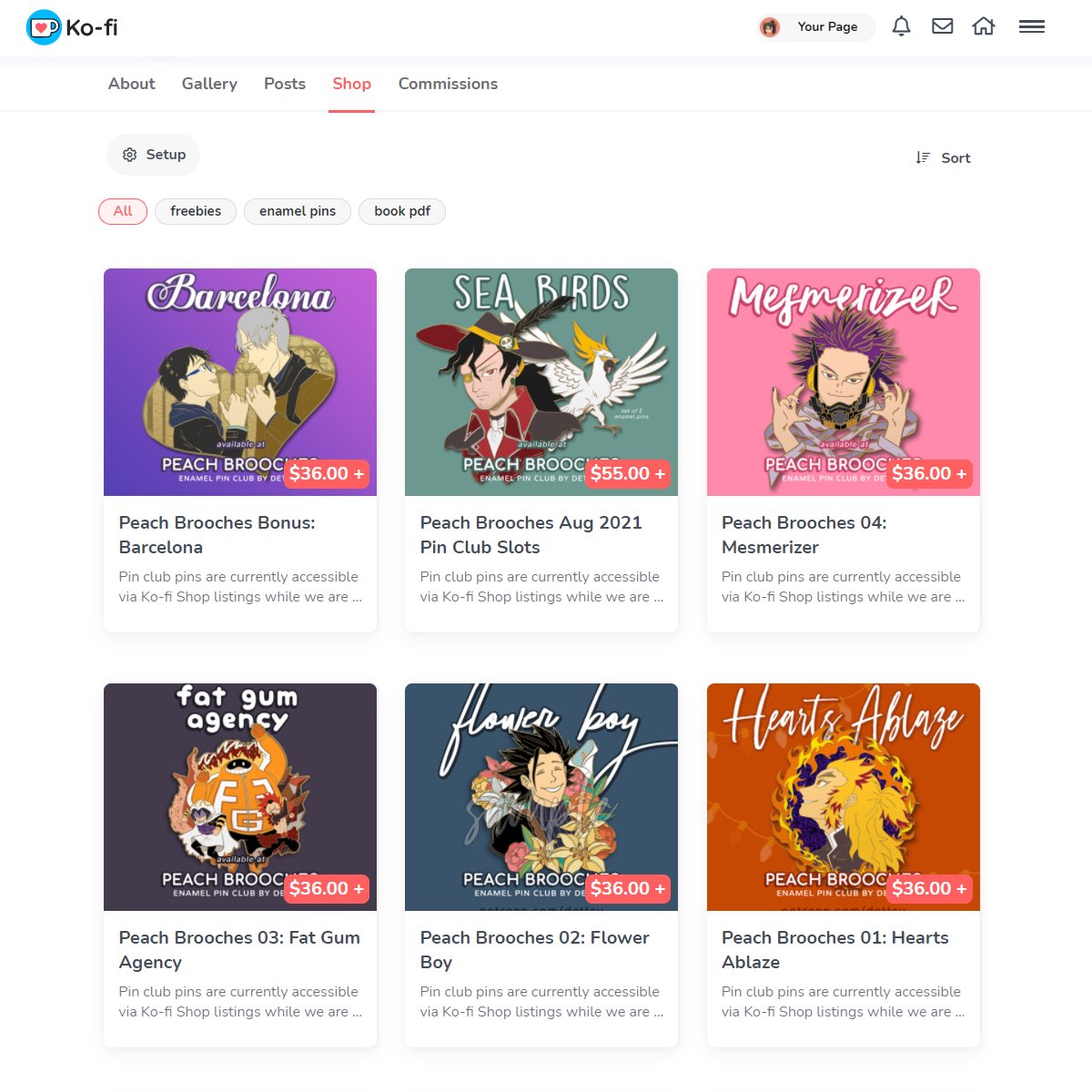 🔸 ENAMEL PINS 🔸

Enamel pins in pre-order status are currently starting production. I'm in contact with my usual manu (whom I love so much ngl) and we're currently in the revisions stage. The production usually just takes 2 weeks or so, but I do rigorous quality checks with my manu. This is to avoid as many B-grades as possible so you can get the quality pins that you deserve!

The Shinsou pins from Patreon has just been shipped out last weekend, so extras are now available in store. The pin club is also slowly moving to ko-fi! Pin club extras are also available in store and on ko-fi as well. Pin club will resume bi-monthly pins on September 2021.

Some old designs will retire soon after getting sold out, so please go get them while you can 💖




🔸 VILLAIN DOLLS 🔸

The villain dolls finished production recently but I haven't been able to post much about it! They're currently in transit to me via sea freight so it's gonna take a while for them to reach me before I get to sort, pack, and ship them all out. I'm just praying at this point that the current restrictions won't delay the dolls' arrival any further. But just in case, let's be prepared to wait a little more since local cargo ships may take more time to disembark shipments during quarantine this month.

There was also an interest in a second batch for dolls since Dabi sold out faster than the other designs. The EndHawks designs are mostly sold out, too. So I've opened batch 2 of preorders for the dolls! We just have to reach 20 orders for a design to push through with production. Production will be smoother and faster this time since I'm sure this manu won't ghost me like the first one 😭

Thanks again everyone for the immense patience and understanding 🙏🏻✨

There's a new variant of Covid-19 going about, so please take care and stay safe and healthy! Hopefully, things will settle down here after the next quarantine ends 😔